Follow my blog with Bloglovin
Dolce & Gabbana fall 2014 couture collection presentation held in Capri.
Dolce and Gabbana chose a truely unique and dramatic location to hold their latest collection of summer dresses-  on the Island of Capri in Italy!
The models cascaded down the cliff top to the audience, seated in blue and white striped deck chairs, alongside the glittering ocean!  What a backdrop to impress!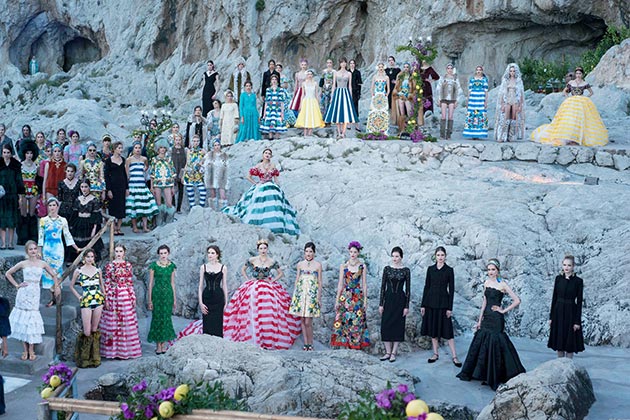 What's especially catchy and wonderful about the Dolce & Gabbana Capri fall 2014 couture collection is that apart from introducing the chicest alternatives, the line also features a universal range of garments, meant for perfecting the looks for any season, from the warm and hot to cold ones.
The glam and luxury of the pieces are, of course, out of question and the accessories like crowns bejeweled with extremely sumptuous jewels and adorned with uber sassy and sensual design patterns only contributed to the creation of absolutely stunning and unforgettable looks. (-fashionisers.com)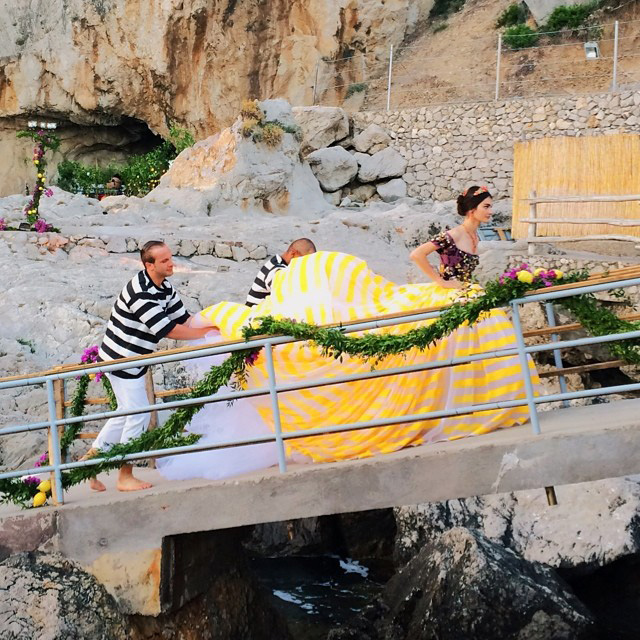 So it all starts with the uber-gorgeous and totally to-die-for princess gown, adorned with a train tail and exclusively cool patters like florals for the top and blue and white stripes for the bottom. The off-shoulder design of the dress and the super chic looks it has makes it a real wonder in this collection. Other fairy tale like dresses include curious design patterns like brocades, completed with the traditional sweet and charming looks and the magical crown.
So yes, do consider the Dolce & Gabbana Capri fall 2014 couture collection as an absolute wonder for any season and occasion and you will surely be the star of the show at the first time!
The thing is that apart from introducing the chicest and the most wonderful pieces we've seen, the whole show was held in the open air, literally on the rocks of the sea, surrounded with the ultra-glamorous and breathtaking beauty of Italy. "It's about the beauty of Italy – we don't really have Alta Moda here – we wanted to do something for our country," Stefano Gabbana noted about the collection and the way it was presented.