Contact Us:

United States:

2972 Columbia St.

Torrance, CA 90503

Email: admin@lamodecollege.com.au

United Kingdom:

The Fashion Offices

37 Cathles, Wandsworth, London SW12 9LE, UK

Email: admin@lamodecollege.com.au

Australia:

La Mode College

Po Box 772 Currumbin, QLD 4223

Ph: 1300 452 697

Email: admin@lamodecollege.com.au






Getting Started in the Fashion Industry can be Hard work- We make it really Easy!
The Secrets to Becoming a Famous Fashion Designer...

Why not knowing how to predict Fashion Trends can send you Broke!

RIGHT and WRONG fashion designing methods

Little mistakes that keep budding Fashion Designers Poor

Why some Fashion designers are successful and others aren't

Why not knowing how to predict Fashion Trends can send you Broke!
Within minutes you could end years of frustration- not knowing how to put your creative ideas to good use.
Your Perfect Fashion- Career- Rescue Right Now! For as Little as the Cost of a new Dress- You Could be the next Successful Fashion Designer!
It doesn't matter how old you are: You could be 14 years old, or 40 years old- its never to Early or Late to Start your Fashion Designing Career!
You could turn your favorite past-time- into a well- paid career!
Yes -It's a shame for you not to make good money in this industry- when you have all the talent within you already. You Just need to know How to Get Started!
So what exactly does a fashion designer do?
The Fashion Designer creates clothes and accessories and showcases their work on catwalks and trade shows – on models and mannequins, and sells their clothes through boutiques, department stores and even on-line! Yes it does sound too good to be true!
Could your designs be on this catwalk?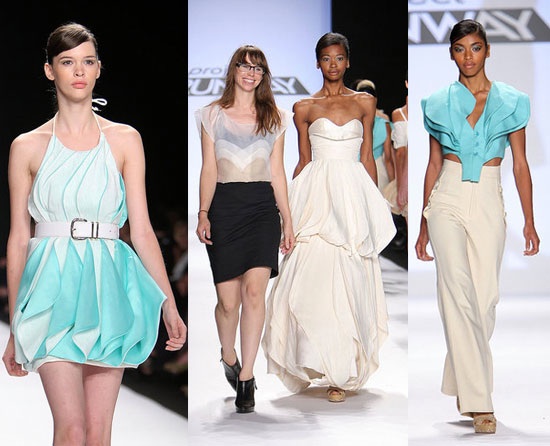 You are born to be a Fashion Designer If....
You spend your weekends at the mall/ shopping centre- you just LOVE fashion!

You have 'Passion' for your 'Fashion'

You have attention to detail

You are easily inspired and like being around creative and inspiring people

You have loads of ideas for clothes and accessories

You absolutely LOVE the new season trends and cant wait to get your hands on the latest new looks!
If it has been YOUR DREAM to Become a Fashion Designer, or Start your own Fashion Line- you are in the right place at the right time!
Maybe you could be the next 'Project- Runway' Winner ?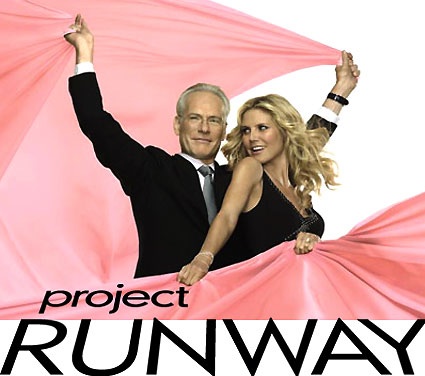 Discover why Fashion Designers get paid $50k-$100k a year...
Yes its true. Fashion Designers are paid up to $100k a year. Why? Because it is hard to find good fashion talent out there. After-all, you are designing clothes for thousands of people to wear!
Learn How to

Draw your Designs Professionally

within Minutes!

Im often asked....'How do I become a fashion designer?




' Do I need a Fashion Degree?'

' How do I get Started?' and ' How can I make my Designs look more Professional?' and 'How can I get that perfect Fashion Job?'
"With over 10 years experience in the fashion industry, I have worked as a Fashion Designer for an accessories fashion company, been a fashion sales rep, a Clothing Designer for a global youth brand, a Ladies-wear buyer for a chain of stores, and I even had my own accessories line that was sold in large department stores. During my career I got to travel overseas 3 times a year to Tokyo, London, Paris, Hong Kong, Sydney and L.A.
My role as a Professional Fashion Designer would have to be the most influential role I had out of all my positions. As a Designer I developed a skill to be able to predict what was going to be in fashion next, and what was going to sell! I learnt the importance of knowing your target market, and knowing what people want to wear. This is the most valuable asset any designer can learn. Its not about how good you can draw or sketch, or how good you can sew a garment. Fashion Design is all about knowing what people want to wear and developing a garment ( or accessory) that will sell at the right price to your customer!
Some of the most influential people that I have met in the Fashion Industry have never officially studied a Degree in Fashion. I actually did. Yes I studied for 3 years Full time to get a Degree in Fashion Merchandising and Design- and NOT ONCE DID I GET ASKED about it in my job interviews!!! Through numerous Job interviews , as well as being on the hiring end, I have found that what employers are looking for is this:
1. Passion (for fashion)
2. Knowledge of new trends and emerging labels (know your competition)
3. Knowledge of Consumer Trends- knowledge of what sells and what the customer wants…
4. Not afraid to do what it takes and work their way up
5. Knowledge of the fashion industry and retail (yes that retail job will come in handy- its prime fashion experience with your target market you could be designing for!!)
I have put this fashion book together from my experience as a successful fashion designer to help others like yourself get into the industry and start their careers..
It includes all the tricks of the trade from someone who has had experience across several different aspects of the fashion industry!
This fashion book will also teach you how to start your very own clothing line…. Yes it could be childrenswear, swimwear, eveningwear, streetwear, lingerie, menswear or shoes and accessories!! And no, it doesn't matter how old you are- whether your 14 or 40- this course will be relevant for you."
Amazing new Fashion Course reveals insider SECRETS to becoming a famous FASHION DESIGNER- Tips so HOT that the Professional Designers don't want you to know them!
The words 'cannot' or 'impossible' do not exist because if I can, you can- and this fashion course will show you how!
It took me quite a few years to collate everything I have learned from the Fashion Industry- from trend research to product design- through to production....then getting your designs on the shop floor.
I have now put all of that information, into a very easy to follow steps. (I just wish that a detailed course like this was available when i first started out!- It would have saved me 3 years of full time study!)
The 'Professional Fashion Designer' Course Manual:
Because I am dedicated to you learning the things that you need to know to be successful in the fashion industry , I have set this course content to be the BEST of the BEST. Here are the topics that the manual covers:
INTRODUCTION TO FASHION
1. Introduction to the World of Fashion
2. Wholesale and Retail fashion: What's the Difference?
3. The Evolution of Fashion: The Fashion Cycle: Why some trends disappear faster than others
4. Where Trends Come From: and How to Predict the Trends
5. The History of Fashion: Why does History Repeat in Fashion?
6. Careers on Fashion- How to get the Job you Want!
FASHION DEVELOPMENT AND DESIGN
7. Clothing Design vs. Product Development: You need to know the difference!
8. Couture vs. Ready to Wear: Which one is for you?
9. Leading Designers: and how to learn from their successful ways...
10. Range Building: how to build a successful range of clothing that sells!
11. Designing clothes for Boutiques vs. Large Retail Stores
12. The Design Phase: Design Considerations : what MUST you know when designing your range?
13. Fashion Forecasting: How to be in 'style' at the right moment!
14. The Fashion Calender: what trade shows are on and where?
15. Garment Production and Supply Chain: how the clothes are actually made and get to the stores
16. Target Market Research: how to find your successful money making niche!
17. The Youth Market
FASHION BUSINESS
18. How to start your own Fashion Label- Successfully!
19. 8 STEPS to Starting a Business
20. Raising Start Up Capital- How to get the loan for starting your range..
21. Government Grants
22. Tips For Success
23. What you need to know before you go into business!
24. Trade Shows: where can you sell your clothes to buyers?
25. How to Write a Business Plan
Here is what our students are saying about this fashion course..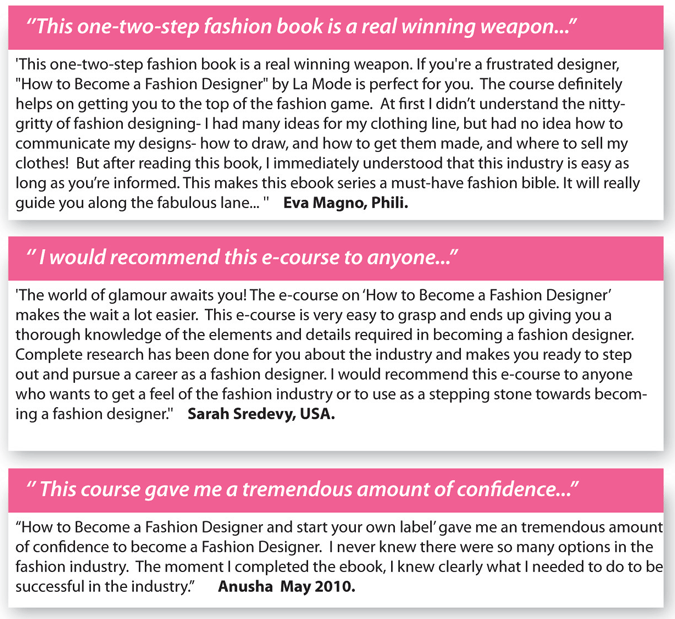 ORDER YOUR FREE INFO PACK NOW-

Ph: 1300 452 697

So to Get started NOW and Become a Professional Fashion Designer!
Well I want to help you by making it affordable to Become a Fashion Designer.
Many Fashion Schools are charging up to $4,500 for the information that I have included in this course. Before you register for a Fashion School, why don't you learn everything you need to know from a Professional Fashion Designer?! I have kept the price as low as possible to make it affordable for young students, and passionate fashion lovers. I love fashion myself so I am just happy to help out other budding designers. This is why I have priced this book at a very very affordable price .
There are Limited SPOTS Available ONLY.
Because I am providing exceptional value for money, I cant' keep up with demand! (this fashion course has been extremely popular!!) So I have had to cap the numbers of student enrollements. This means that there are strictly limited spots available.... so please don't waste time if you are serious about learning the secrets to becoming a professional fashion designer.
So to secure your limited spot, and to Get Started NOW in the Fashion Industry- Order your FREE info Pack by calling 1300 452 697
Are you afraid that you'll never find a job that you truely love and that you are passionate about?
Here are some more reasons to order a Free info Pack…..
There is a job out there that you can get paid to design Clothes. And yes you don't have to go to College or university for it. Actually most fashion designers haven't even studied fashion, or have a degree!

What makes us unique is that this course is written by a REAL fashion designer who successful had her designs in Department stores around the country.

Real Fashion Industry Secrets that the professionals don't want you to know about!

the MUST KNOW know things that a fashion designer needs to be successful

How to design a Successful Range.

What magazines you MUST read for the latest fashion goss and trends!

You can learn how to be a fashion designer from your own home! No boring classes to attend. You can fit in your study at your own pace.

No assignments to hand in. Only relevant information.

No high college fees, or College dept to pay off!

Tax deductable

STUDY at HOME in Your own time. There are no physical classes to attend.
More from our students: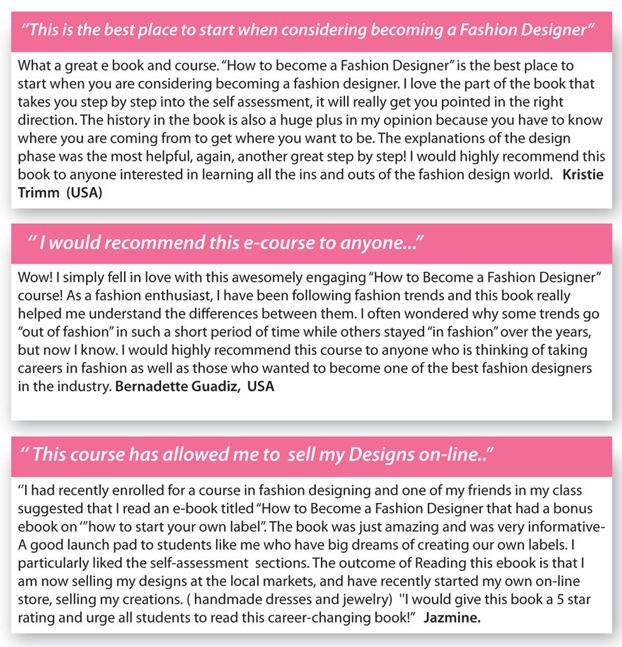 Yes You Can Become a Fashion Designer! All You Need Is Someone In Your Corner ... To Guide You Step-By-Step!
We want you to love this fashion course.
You should have absolutely no risk in ordering this book- thats why we offer your 100% guarantee for 90 days. If you don't find it helpful to you- you can return it for a full refund. Of course we also value your feedback - so that we can make our course even better!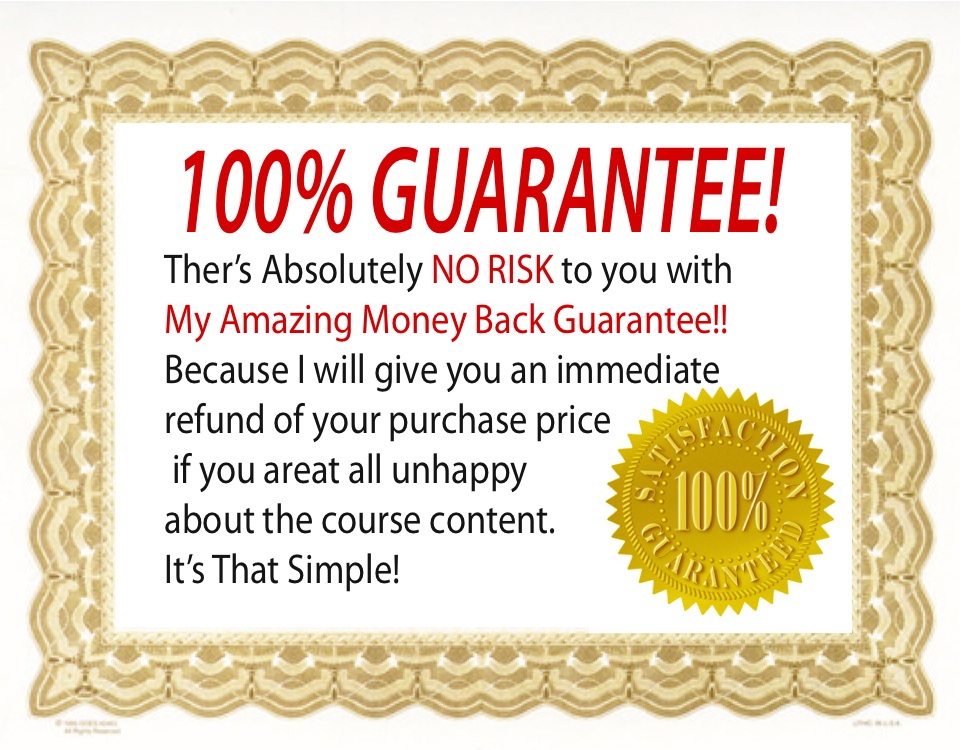 Imagine how jealous your friends will be when you start to become a real Fashion Designer! ORDER YOUR FREE INFO PACK- BEFORE YOU MISS OUT!!
PH: 1300 452 697
Get Started NOW!
'You need to have creative vision and the desire to succeed' Coco Chanel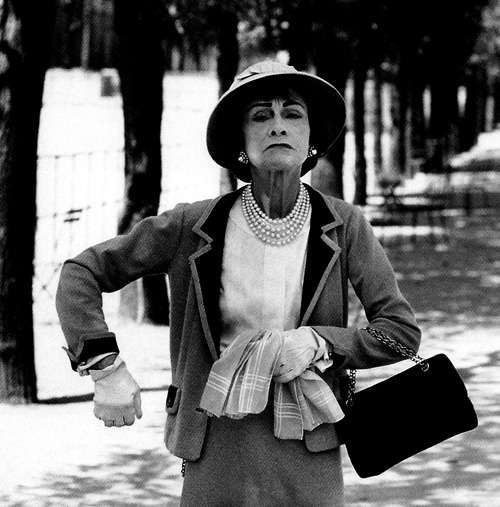 For Further enquiries, Please contact me at: admin@lamodecollege.com.au
Follow me on

http://twitter.com/LaModeCollege